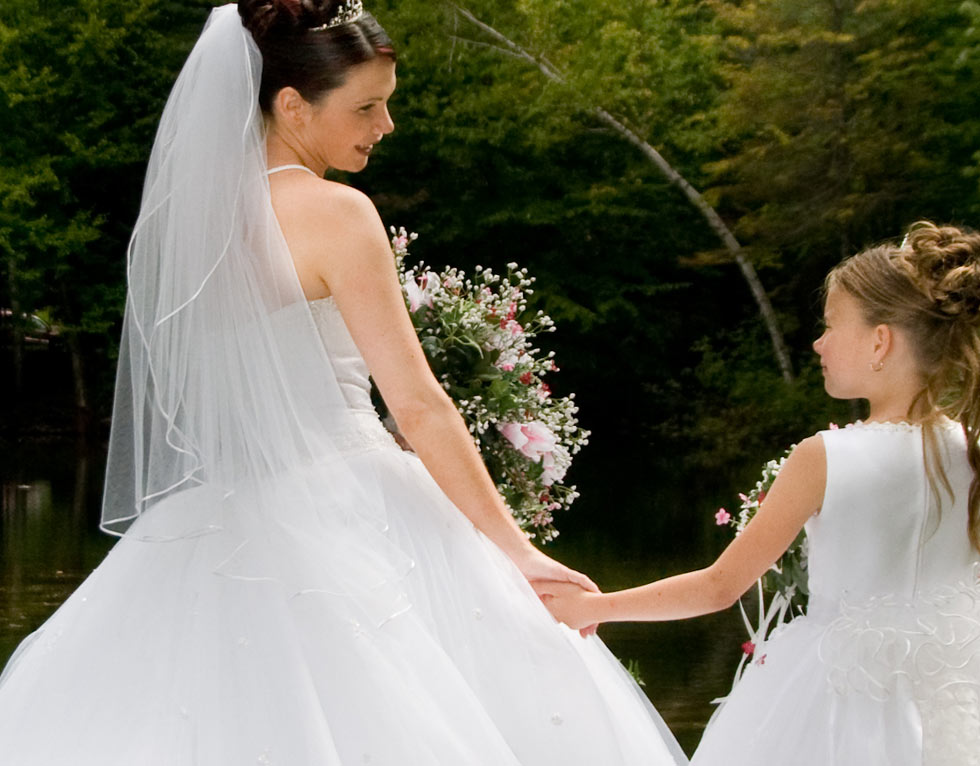 Wedding Gown Preservation
Preserve your wedding dress and turn it into a priceless family heirloom…
Preserve and protect your wedding dress.
Your special bridal gown is the centerpiece of your wedding day and the reflection of your love and commitment. When the wedding is over, Timeless Flowers can help you preserve your gown in a professional way according to archival standards so that its beauty will be preserved for generations.
There are several environmental factors such as light, temperature and humidity, not to mention dust and various plastics and glues, that can be severely damaging to your wedding gown. Lace, silk, satin and other delicate fabrics need special care and cleaning, and archival protection will prevent yellowing or deterioration. While you might think that taking your wedding gown to the local cleaners is enough, they cannot provide adequate protection.
Local customers may arrange to have their gowns and accessories dropped off at our showroom by appointment. All other customers may purchase a DIY kit to have their gowns shipped to the Wedding Gown Preservation Company with a prepaid FedEx label. All gown preservations must be prepaid in full. Please see below for pricing.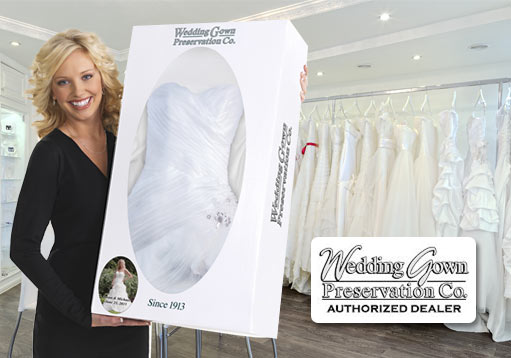 Timeless Flowers is proud to be an authorized dealer for The Wedding Gown Preservation Co.
The Wedding Gown Preservation Company has specialized in the care, cleaning, restoration and preservation of precious wedding gowns since 1913 and is the recognized leader in wedding gown preservation.
Their cleaning methods have been proven and recognized by the International Fabric Institute as the best methods in the gown preservation industry. All of the processes are safe, gentle and done by hand. Each gown is evaluated upon its arrival and the best cleaning process for that particular gown is used. Approximately 95% of all stains are able to be removed – including tar, blood, perspiration, grass, mud, grease, and food, being the most common, as well as any sugar stains from cake icing, wine and other beverages. All of their processes are safe, gentle and environmentally safe.
Your gown is then fitted on an acid-free bust form and packed in an acid-neutral preservation chest. You will be able to view your gown and veil through the window of the chest. Any other items will be positioned at the bottom of the window, where possible, or packed underneath your dress.
Your preserved gown is delivered to you within 4 – 10 weeks with a 100 year guarantee against caramelized sugar stains or yellowing. If at anytime your gown is found to have yellowed or has caramelized stains The Wedding Gown Preservation Company will reprocess the gown at no additional cost. If reprocessing is found to be unsuccessful they will refund the preservation cost.
REMEMBER: Never store your gown in the attic or basement.
Traditional Gown Preservation

Includes the professional cleaning of your gown, including stain removal, positioning of the gown and items in the preservation chest, plus up to three additional items such as: veil, train, hat, jacket, shawl, cape, duster, ring pillow, money bag, purse, handkerchief, gloves, garter, scarf. Extra accessories in excess of 3 add $20 per accessory.
Flower Girl or Christening Gowns

The price for all gowns also includes a declared value of $500. Additional declared value $20 per $1000.
Celebrity Line Upgrade

Includes everything the Traditional line includes, plus hand pressing, $1000 additional declared value, and silver preservation chest.
Personalization:
Text
Photo (no text)
Photo with Caption
Additional Items:
Slip or shoes boxed w/ gown
Wedding gown boxed only
Contact Us:
Give us a call at (305) 322-9223 for information on preserving your wedding gown.